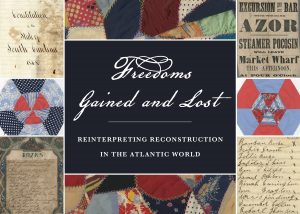 The College of Charleston Libraries will host an original exhibit curated by historians and archivists showcasing the documentary heritage of Reconstruction and the post-emancipation era in South Carolina and the Atlantic world.
Informed by cultural heritage objects from repositories across the region, the display will offer the public the opportunity to engage with sources that inform the (re)interpretation of the freedoms gained and lost by African descended peoples during the Reconstruction era.
Contributing repositories include:
South Carolina Historical Society
College of Charleston Special Collections
The Avery Research Center for African American History and Culture
South Carolina Department of Archives and History
The Charleston Museum
The Gibbes Museum of Art
An online component will complement the exhibit, made available at the Special Collections website.
The exhibit opens March 16, 2018. Available for viewing during regular business hours.
The exhibit is part of the 2018 Carolina Lowcountry and Atlantic World (CLAW) conference held March 16-18 at the College of Charleston.
Location: College of Charleston Addlestone Special Collections (3rd floor of Addlestone Library) | 205 Calhoun St.
FREE and open to everyone. 
About the College of Charleston Libraries
The College of Charleston Libraries represent the premier research repositories for the region. With its comprehensive collections, the library serves as a dynamic hub of discovery that supports education at the highest levels. We teach our community to think ethically and critically about information. We preserve the history of the institution and the region. We deliver professional service and instruction, and engage in strategic, creative partnerships. We advance intellectual and cultural excellence. library.cofc.edu
About CLAW 
The Carolina Lowcountry and Atlantic World (CLAW) Program at the College of Charleston was established in 1994 to promote scholarship and public engagement with the history and culture of the Lowcountry region, the Atlantic World, and the connections between the two. In collaboration with various local, national, and international partners, the CLAW program regularly hosts or co-sponsors a range of conferences, symposia, public lectures, faculty seminar sessions, film screenings, and other public programming in and around Charleston, South Carolina. In addition, through the University of South Carolina Press, the Carolina Lowcountry and Atlantic World Series features numerous books on diverse topics related to Atlantic World experiences. Faculty and affiliates of CLAW also frequently work with a range of cultural heritage organizations to support physical and digital exhibitions that promote robust educational outreach. claw.cofc.edu