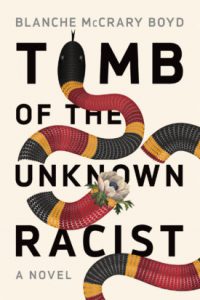 Wednesday, May 30 | 6:00—7:00 p.m. | Randolph Hall/Alumni Memorial Hall
Join award-winning novelist Blanche McCrary Boyd for a discussion of her provocative new novel, Tomb of the Unknown Racist, her first novel in twenty years.
A family story set against political and racial struggle, it is based on real life events surrounding William Luther Pierce, Timothy McVeigh, and the Oklahoma City Bombing. The tour de force end to a trilogy, that like no other fiction, has offered a survey of politics and activism across the American experience.
ABOUT BLANCHE MCCRARY BOYD
A native of South Carolina, Blanche McCrary Boyd has taught at Connecticut College since 1982. She has written four novels: Nerves, Mourning the Death of Magic, The Revolution of Little Girls and Terminal Velocity, as well as a collection of essays titled The Redneck Way of Knowledge. Among the awards Boyd has won are a Guggenheim Fellowship, a National Endowment for the Arts Fiction Fellowship, a Creative Writing Fellowship from the South Carolina Arts Commission, and a Wallace Stegner Fellowship in Creative Writing from Stanford.