Can't get enough moon-mania? Beat the heat – and crowds – with a special document display featuring rare lunar materials drawn from the collections of the Library and the South Carolina Historical Society:
Rare printed images of the moon from materials dating back more than 500 years
Hand-drawn illustrations of eclipses occurring in the 19th and early 20th centuries
An 1835 handwritten sermon preached on the eclipse by Jasper Adams, a former president of the College
Historic almanacs from 1763 (image below) and 1846 featuring eclipse predictions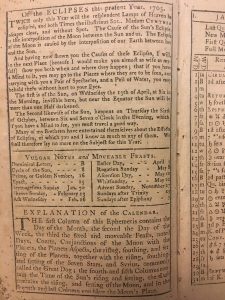 "Many of my brethren have entertained themselves about the effects of the eclipse…" From the 1763 South-Carolina Almanack in the SCHS Pamphlet Collection.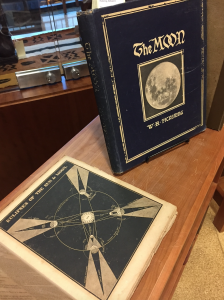 When not organizing solar eclipse expeditions, famed American astronomer William Pickering found time to pen & illustrate The Moon: A Summary of the Existing Knowledge of Our Satellite, with a Complete Photographic Atlas, featuring 100 plates.
The display is viewable only during Special Collections' business hours. A special thanks to the Special Collections and South Carolina Historical Society teams for their help organizing the display.