Culinary historian, author, artist and photographer John Martin Taylor, also known as Hoppin' John, has donated his personal collection of books and papers to the Special Collections Department of the College of Charleston and the Horry-Georgetown Technical College's International Culinary Institute of Myrtle Beach (ICI).
Taylor owned the famous Hoppin' John's culinary bookstore and cooking school in Charleston, SC for 13 years. When he closed the shop in 1999, he donated hundreds of books to the Charleston County Library, but kept several hundred for his private collection. Taylor continues to run his website, HoppinJohns.com, where he sells stone-ground corn products, and he blogs at HoppinJohns.net. Though still sought after as a speaker and consultant to the food industry, Taylor wanted to find a new home for his personal collection as he focuses on retirement.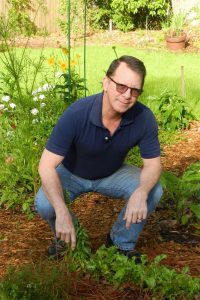 "My marriage and my garden are more important to me than my career at this point in my life," Taylor said, from his home in Savannah. "I knew the books would get much better use in the hands of students, and I'm pleased that the International Culinary Institute of Myrtle Beach and the Special Collections will be their new homes."
For the recipients, the donation is a tremendous honor.
"Mr. Taylor's gift is incredible," said Harlan Greene, Head of the Special Collections Department at the College of Charleston. "His papers not only document southern culinary history, but so much more. We know John's photography and art work, his friendship with poets, artists and musicians like the B52s will spark and satisfy researcher interest. And of vital importance to us—and to the future—are the materials on LGBTQ life in the Lowcountry, a new and vital focus of our collection. Users of these materials will be thanking John for years to come."
"The mission of our libraries is to preserve and make accessible materials documenting the kaleidoscope of lived experiences here in Charleston and beyond," said John White, Dean of the College of Charleston Libraries. "John's generous donation is a boon to our students and researchers—whether they are exploring historic foodways or contemporary social issues facing our city—and enriches our permanent collection."
The collection will be made available to researchers at the Special Collections Department of the College of Charleston in the coming months, accessible to all College of Charleston faculty, staff, and students as well as College of Charleston Friends of the Library.
The Special Collections Department of the College of Charleston was founded to support the teaching and learning mission of the College of Charleston and to evaluate, acquire, organize, preserve, and make available rare printed and archival materials on the South Carolina Lowcountry and the broader Atlantic World. Its holdings include over 600 manuscript collections related to the history and culture of the South Carolina Lowcountry, the archives of the College of Charleston, the Spoleto Festival Archives, and more than 40,000 rare books and pamphlets. Special Collections also offers online access to collection guides, a robust digital library, physical and online exhibits, and is committed to public programming and educational outreach. 
The International Culinary Institute of Myrtle Beach at Horry-Georgetown Technical College boasts a new state-of-the-art facility at the heart of the Grand Strand. Associate degree and certificate programs, including South Carolina's only Associate Degree in Baking and Pastry Arts. Internships and scholarships are available to qualifying students. Horry-Georgetown Technical College's Culinary Arts programs are accredited by the American Culinary Federation Educational Institute, and graduates are eligible for ACF certification.