Looking Past: Photographs of Will Fulmore 1946-1997
September 15-November 30, 2016
Addlestone Library, 2nd floor gallery
205 Calhoun St., Charleston, SC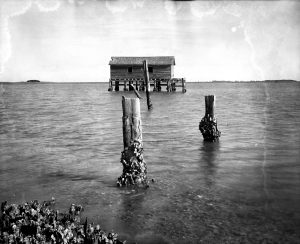 The work of College of Charleston alum William Wesley Fulmore is currently on display in the Addlestone Library. Fulmore's photographs were taken during the early 1970s and evoke Southern Gothic symbols of peacocks, lush vegetation and abandoned gardens and include portraits that are intense and tender. Curated by McClellanville-based photographer Nancy Marshall, this exhibit will be on display through November 2016.
During his brief career in photography, Will Fulmore created a body of photographs that is both lyrically beautiful and also unsettling. He was an explorer both of his subject and his techniques. He mastered the use of the 8×10 field view camera, the antique printing out process and the photogravure printing process. His curiosity and desire to explore led him into beautiful places both light and dark.
William Wesley Fulmore, Jr. was born in St. Stephen, South Carolina on March 1, 1946. He attended high school in Macon, Georgia and later graduated from the College of Charleston with a degree in English in 1968. He earned a Master's degree in journalism at Wake Forest University and after that in the mid-seventies, the GSU photography program in Atlanta. Fulmore was a member of the Nexus Photography Gallery in Atlanta in the mid to late seventies. He returned from Atlanta to live in St. Stephen's where he died in 1997.
Read more about Fulmore and his work at http://today.cofc.edu/2016/11/02/photography-william-fulmore/.