NEW Cougar Cards for Addlestone Library entry/exit are REQUIRED beginning October 1!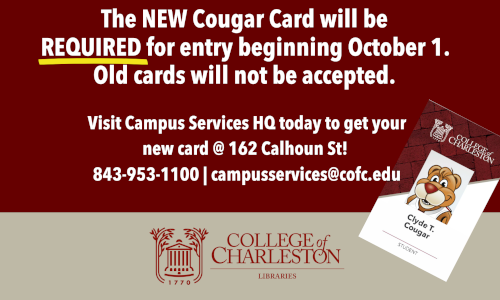 Important to Know
NEW Cougar Cards are REQUIRED for Addlestone Library entry/exit beginning October 1.
Visit Campus Services HQ to pick up your new card.
Face coverings and social distancing are required at all times.
Food is not permitted. Covered beverages only.
Group study is not available. Individual study only.
Leave the furniture as arranged.
Friends of the Library cards or appointments for services in the library are also accepted for entry.
Take advantage of virtual services at answers.library.cofc.edu.
Learn more by viewing our Fall 2020 Student Newsletter or Faculty Newsletter.
Library Users not meeting these expectations will be asked to leave the library for 24 hours.