Join the Library Student Ambassadors on Thursday, April 13 for a screening of the Academy Award-winning film, Everything, Everywhere, All At Once.
Refreshments will be served at 7:00 p.m. and the screening will begin at 8:00 p.m.
Tickets can be purchased by scanning the QR code below or online via the College's George Street Box Office.
The reception and screening will be held in the Thaddeus Street Jr. Education Center's auditorium (rm. 118) at 25 St Philip St.
All ticket proceeds will go toward the purchase of student equipment for Addlestone Library's Access and Instruction Desk.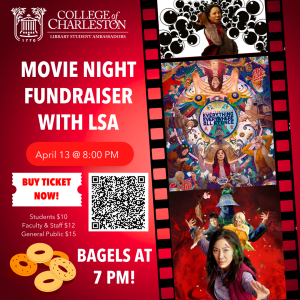 Library Student Ambassadors (LSA) is a student advisory board that engages in conversation about the CofC Libraries, promotes library resources to fellow students, and helps shape student library experiences.
LSA represents the CofC student body in conversations with the CofC Libraries staff. Through an established relationship that is facilitated through our advisors who attend each meeting, we bring student interests to the attention of library staff and, in turn, the library staff come to us for feedback. LSA ensures that there is a constant dialogue between students and library staff.
Because LSA's mission is to serve the student body, all general meetings are open to non-members.
Interested in joining the Library Student Ambassadors, or know a student that might benefit from the leadership experience? Learn more at libguides.library.cofc.edu/lsa and follow their Instagram @cofc.lsa.