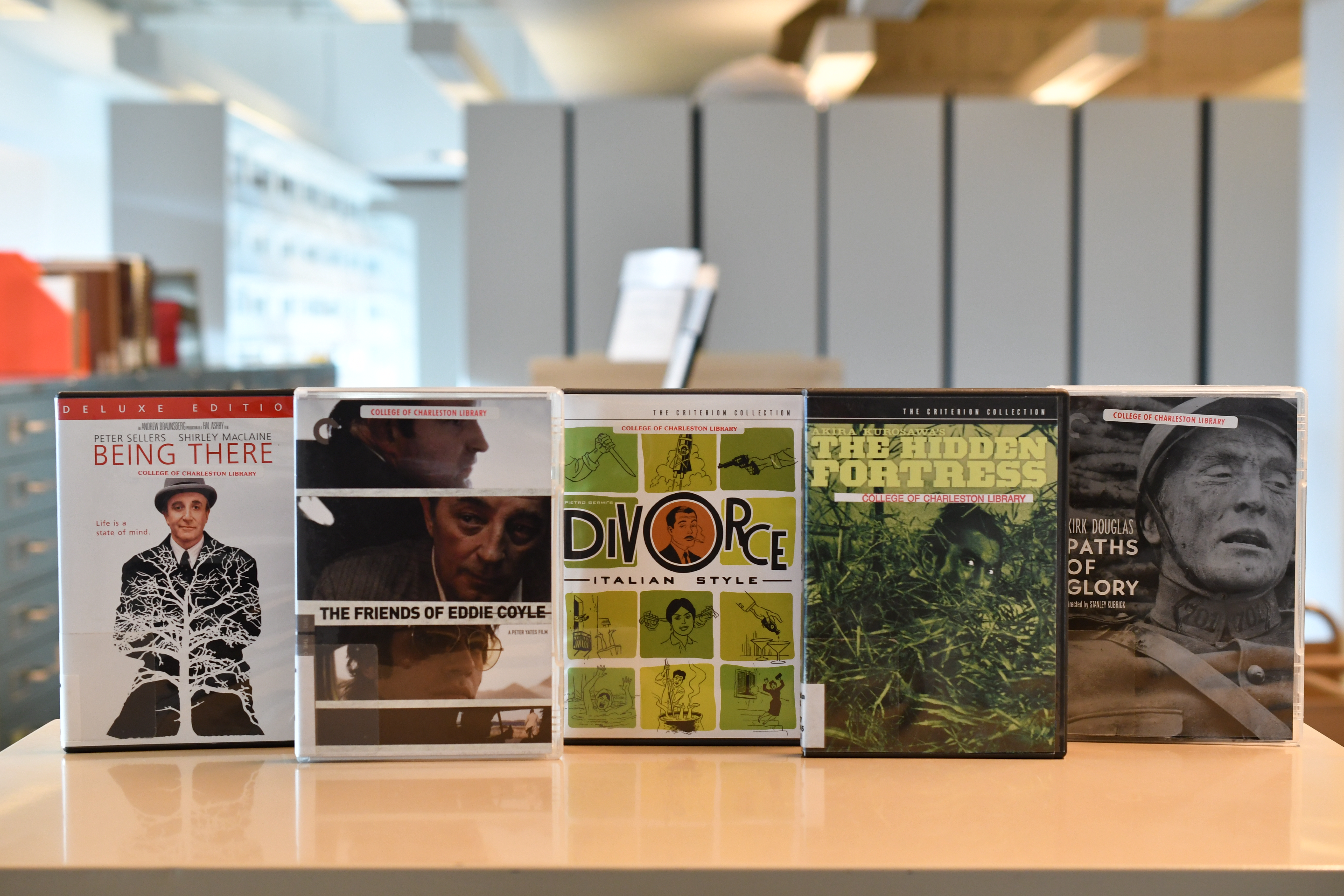 Time is running out to see the films nominated for Best Picture before this year's Oscars ceremony on Sunday, Feb. 9, 2020.
And, while you might not get to see them all in time, if you're looking for similar films to enjoy, look no further than Addlestone Library.
"Most students are surprised when I tell them of the preponderance of video titles we have available for them, and they are positively overwhelmed when I show them," says Jared Seay, research librarian and media services coordinator.
More than 4,000 DVDs call the third floor of Addlestone home, but the film collection extends far beyond what's on the shelves. Students have access to streaming video services available exclusively through the College of Charleston Libraries.
"Our access includes independent films, world and classic cinema, documentaries, short films, TV series, sci fi, horror, comedy, romance, early film, and so much more," Seay says. "We even have the 'Great Courses,' one of my personal favorites."
"They truly get it when I describe our streaming services as the 'Netflix of Academia.' And they have full access by simply being students at the College," says Seay. "Is there a better perk than that?"
For Cougar cinephiles unable to catch last-minute showings, here's a selection of Oscar-worthy movies inspired by this year's nominees, available via Addlestone Library.
The Irishman/The Friends of Eddie Coyle
Martin Scorsese's biographical crime thriller – with its de-aging CG and marathon 209-minute runtime – is the elegiac capstone of his mafioso oeuvre.
Stripped of such digital wizardry – but packing as much pathos – is Peter Yates' The Friends of Eddie Coyle (1973). Faced with a fresh stint in prison, an aging gangster reconsiders his loyalties and his "professional" relationships. Set against the backdrop of Boston's gritty 1970s underworld, the film is a forgotten treasure of that decade's cinema and a tour de force for its leading man, Robert Mitchum.
1917/Paths of Glory
Sam Mendes' 1917 dazzles with its technical virtuosity and honest depiction of British soldiers as they make their way through the mud, muck and murder of the First World War.
Stanley Kubrick's Paths of Glory (1957) also takes as its setting the "War to End All Wars." Jockeying for a promotion, a French officer orders a suicidal assault. After its inevitable failure, the officer – now worried about his career – blames his enlisted men's "cowardice." Three are selected arbitrarily, tried and executed. Armed with its own pioneering cinematography, Paths of Glory spotlights the absurdity of all modern conflict and ranks among the greatest anti-war films of all time.
Marriage Story/Divorce Italian Style
Noah Baumbach's Marriage Story poignantly tracks the confusion and complexity of a couple coming apart, a process made more tumultuous by the involvement of lawyers.
Pietro Germi's Divorzio all'italiana (1961) documents an alternative method of spousal separation. With divorce illegal in Italy at the time, a husband schemes to murder his cheating wife in a "crime of passion" – which would carry a sentence of no more than three years in prison. The wrinkle in his plan is that, far from being an adulterer, his wife is nothing but adoring and faithful. A high-water mark of the "Commedia all'italiana" genre, the film delightfully skewers male chauvinism and the social and legal structures girding it.
Jo Jo Rabbit/Do the Right Thing
Taika Waititi's Jojo Rabbit exposes the moral bankruptcy of Hitler's Germany through the eyes of children and their imaginations, charting their growth as they spurn prevailing opinion and make up their own mind.
Spike Lee's Do the Right Thing (1989) surveys racial tensions within the dynamics of a diverse New York neighborhood. On the hottest day of a Brooklyn summer, inequality and ignorance lead to a flash of violence. In the aftermath, issues of responsibility and reconciliation are left ambivalent, offering no easy answers. A film as urgent today as it was in 1989, Lee commissioned hip hop group Public Enemy to provide its musical centerpiece. The result was the anthem, Fight the Power.
Little Women/Hidden Fortress
Greta Gerwig's adaptation of the classic novel Little Women follows four young women as they strive to make their own way in the world, struggling against the restrictive social mores of their time to realize their full selves.
Flashback to 16th century feudal Japan and this timeless theme plays out in Akira Kurosawa's Hidden Fortress (1958). A samurai attempts to escort his clan's princess and treasure to safety with the help of two ne'er-do-well peasants. The princess, however, doesn't seem to need much protection –she is far from the dainty and demure female royal the viewer expects. Played with bravura by Misa Uehara, the princess' pluck and panache directly inspired another of cinema's feminist paragons: Princess Leia.
Parasite/Being There
Bong Joon Ho's Parasite is equal parts comedy of manners and social satire, focusing on the blending of two families and the collateral damage caused by deception and delusion.
Hal Asby's Being There (1979) likewise explores the tenuous nature of identity and relationships. A shut-in, Chance – played by Peter Sellers – unwittingly falls into the social circle of one of Washington's most powerful families. His childlike outlook both inspires and confounds his new friends, with everyone projecting onto Chance their own ideas and motives. More melancholic than Parasite, Being There packs an unforgettable, much-imitated final scene.
Learn more about the Libraries' media collection and streaming services.