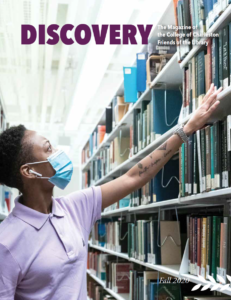 The Friends of the Library are pleased to announce the latest issue of Discovery magazine.
With articles exploring the challenges and opportunities posed by the pandemic, this issue is dedicated to the Libraries' faculty, staff and supporters who ensured resources and services were always available.
Additional articles include:
My Bondage and My Freedom: A Personal Connection to Frederick Douglass
Mapping Jewish Charleston: Tour Guide and Historical Resource
With Her We Stand: Black Women Suffragists and the 19th Amendment
Las Voces del Lowcountry: Lowcountry Digital History Initiative's First Bilingual Exhibit
From Hoop Skirts to Hoop Dreams: The College's First Female Basketball Team
Let There Be Light: Special Collections Welcomes 1613 King James Bible
Wikipedia Edit-A-Thon: Shining a Light on Hidden Histories
and more.
Published each semester, Friends of the Library receive a print edition of Discovery.
Learn more about supporting the College Libraries.