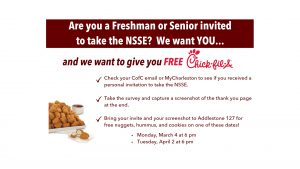 The College of Charleston is constantly striving to improve the services you receive and the quality of your academic experience.
Select freshmen and seniors who have received an email invitation to complete the National Survey of Student Engagement (NSSE) are eligible to claim a free meal during the catered events in Addlestone Library on Monday, 3/4, or Tuesday, 4/2, at 6pm. Chick-fil-A nuggets, hummus with pita and veggies, fruit, and cookies will be served in Addlestone 127.
F.A.Q.
Food will be available for pickup in Addlestone 127.
Tables for dining will be available in Addlestone 227.
Students must bring their invitation and a screenshot of the thank you page at the end of the survey to claim their free meal.
Those who have not yet completed the survey can do so on their phones or in Addlestone 122.
Students can bring a printout or show their survey completion on their cell phones.
If students took the survey and did not make a screen capture of the thank you page, all they need to do is click their invitation link and the thank you page will appear.
Questions?
For help with logging into the survey or to find answers to a variety of other questions, please go to: https://nssesurvey.org/contact.cfm.
If you have other questions, please contact Xiushan Jiang at jiangx@cofc.edu or 843-953-7526.
About the National Survey of Student Engagement (NSSE)
The NSSE helps the College's administration understand how students are spending time in and out of the classroom. This information helps us make decisions that increase the quality of your education at the College of Charleston. More information about NSSE is at nsse.indiana.edu.