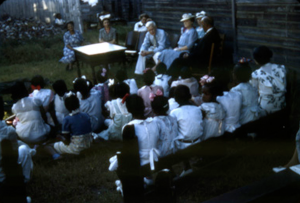 February 27, 2018 | 12:00 – 1:30 p.m.
Addlestone Library Rm. 227 | FREE and open to the public
In Doctor to the Dead, Charleston artist and writer John Bennett presented twenty-three stories based on oral narratives Bennett heard from African Americans during the first decade of the 1900s. Two of these tales are in Gullah; the rest are presented in standard English in a style reminiscent of European fairytales and myths.
On February 27, 2018, join the College's own Julia Eichelberger to explore the multiple meanings attached to these Gullah narratives in retellings that occurred from the nineteenth century to 1946, when Bennett finally persuaded a national publisher to issue the volume. Click here to learn more.
The event is part of "Narrating Charleston on the Margins," the spring 2018 Faculty Lecture Series exploring the oft-overlooked ways Charlestonians have defined themselves. The series is produced by the College of Charleston Friends of the Library and the Honors College.
FREE and open to the public. Registration is required.
Lunch will be provided.
Julia Eichelberger joined the College of Charleston English Department in 1992 and now directs the College's interdisciplinary minor in Southern Studies. In addition to courses in Southern Studies and Southern literature, she has taught courses on African American literature, Jewish American writers, Charleston writers, twentieth-century fiction and poetry, and Mississippi writer Eudora Welty, as well as first-year writing. She has published essays in Mississippi Quarterly, Studies in American Jewish Literature, Southern Literary Journal, and the Eudora Welty Review, and most recently in the collection Eudora Welty, Whiteness, and Race, edited by Harriet Pollack (U of Georgia Press, 2013). Her first book, Prophets of Recognition: Ideology and the Individual in Novels by Ellison, Morrison, Bellow, and Welty, was published by LSU Press. For her second book Tell About Night Flowers: Eudora Welty's Gardening Letters, 1940-1949 (UP of Mississippi) she selected, edited, and annotated letters Welty wrote to two close friends who shared her love of gardening. Many letters were previously unpublished and discussed Welty's work in progress. She co-edited Teaching the Works of Eudora Welty: Twenty-first Century Approaches (also from UP of MS). She was the winner of the Eudora Welty Society's 2016 Phoenix Award for her scholarship on Welty. This talk reflects her work in progress on Charleston writer John Bennett, whose papers are housed in the South Carolina Historical Society.
About the College of Charleston Friends of the Library
The Friends of the Library supports and advances the work of the College of Charleston Libraries. From on-campus collaborations to the Winthrop Roundtable, FOL's programming provides opportunities for lifelong learning that strengthen our community and connects the Library to luminaries across the Lowcountry and beyond. friends.cofc.edu
About the College of Charleston Honors College
The College of Charleston Honors College expands on partnerships between faculty and student by creating a vibrant living-learning community where personal attention gives the support students need to reach their goals during and after college. Inside the CofC Honors community, motivated students live, learn, and grow together while pursuing their unique interests and goals – everything from study abroad, internships, research and service projects at home and globally. honors.cofc.edu
Image: Summer reading closing exercises featuring John Bennett at the Dart Hall Branch Library ca. 1943. From the Charleston Archive at CCPL