The assassination of Robert Francis Kennedy is a moment forever seared into Americans' collective memory. The New York Senator died in the early hours of June 6, 1968, succumbing to gunshot wounds sustained the previous night at Los Angeles' Ambassador Hotel.
Today, June 6, 2018, marks the 50th anniversary of his passing, and as haunting images from half a century ago populate newsfeeds across the country, never-before-seen photographs of that fateful event have emerged in the stacks of the College of Charleston's Special Collections at Addlestone Library.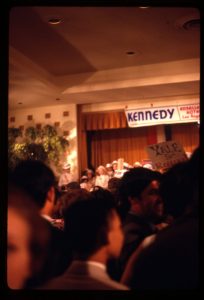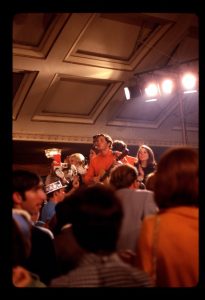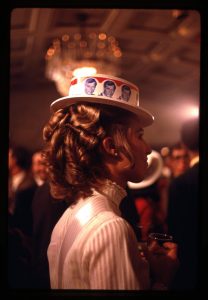 The photographic slides – color transparencies housed in plastic frames – were recorded by journalist and Charlestonian Bokara Legendre. They and Legendre's personal papers form part of a collection only recently accessioned by the College.
The candid images capture the cascade of emotion of those present to witness Kennedy stump for the Democratic presidential nomination, only to be startled by gunshots and learn of his fatal injuries. These visual records of Kennedy's assassination have never before been released in digital form.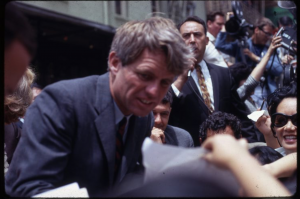 Several exposures document the hours before Kennedy's victory in the California Democratic primary. In one the former attorney general shakes hands with enthusiastic voters in the City of Angels. Another features a young supporter wearing an expectant smile and a campaign hat emblazoned with Kennedy's portrait, eagerly awaiting the final tally.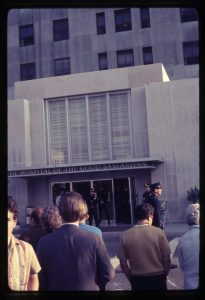 Others record the aftermath of shooter Sirhan Sirhan's actions. A snapshot depicts police and onlookers gathered outside the Hospital of the Good Samaritan where the presidential hopeful was rushed for treatment and passed away. In another image, a man with closed eyes has an exhortation pinned to his shirt reading, "Pray for Bobby."
Nicknamed "Bo," Legendre followed Kennedy's presidential primary campaign as a freelance journalist, penning pieces for The News and Courier and The New York Times. She continued to cover the primaries and found herself in Chicago a few months later during the turbulent Democratic National Convention.
Legendre's collection of photographs and papers span far beyond her reportage. Her varied talents – artist and author, summer stock actress, television host, ordained Dhamma practitioner – are represented along with intimate photos of her family at Medway Plantation in Berkeley County, South Carolina, considered to be the oldest masonry residence in the Palmetto State.
The daughter of an established family, a Washington Post profile described Legendre as having a "straight mouth, stern walk and firm manner, tempered by an easy laugh."
Special Collections is working to make available online more of Legendre's records, including additional never-before-seen images of Kennedy's presidential primary campaign. They will join more than 100,000 materials freely accessible online through the Lowcountry Digital Library. In the meantime, all of Legendre's other papers are available for research in-person on the third floor of Addlestone Library.
---
By joining the Friends of the Library, you support the resources, people, and facilities essential to both preparing students for academic achievement and building a dynamic learning environment for the entire Charleston community.