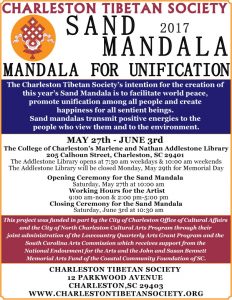 The Charleston Tibetan Society's intention for the creation of this year's Sand Mandala is to facilitate world peace, promote unification among all people and create happiness for all sentient beings. Sand mandalas transmit positive energies to the people who view them and to the environment.
MAY 27th – JUNE 3rd
The College of Charleston's Marlene and Nathan Addlestone Library
205 Calhoun Street, Charleston, SC 29401
The Addlestone Library opens at 7:30 am weekdays & 10:00 am weekends
The Addlestone Library will be closed Monday, May 29th for Memorial Day
Opening Ceremony for the Sand Mandala
Saturday, May 27th at 10:00 am
Working Hours for the Artist 9:00 am-noon & 2:00 pm-5:00 pm
Closing Ceremony for the Sand Mandala
Saturday, June 3rd at 10:30 am
This project was funded in part by the City of Charleston Office of Cultural Affairs and the City of North Charleston Cultural Arts Program through their joint administration of the Lowcountry Quarterly Arts Grant Program and the South Carolina Arts Commission which receives support from the National Endowment for the Arts and the John and Susan Bennett Memorial Arts Fund of the Coastal Community Foundation of South Carolina.