Churchill was a Snowflake:
New Leadership Habits to Prevent an American Iron Curtain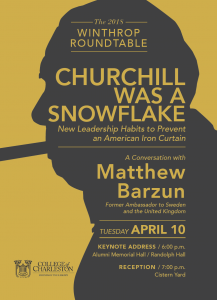 Tuesday, April 10 | 6:00 p.m. | Alumni Hall/Randolph Hall
Matthew Barzun, America's youngest-ever ambassador to the United Kingdom, stewarded the alliance during surprise elections that highlighted growing divisions on both sides of the political spectrum and both sides of the Atlantic. He saw up close the results of a paradox many of us feel every day: Never have we been so connectable, yet never have we felt so disconnected. But amidst the fog of uncertainty, he sees a ray of possibility for less divided times ahead. Sharing lessons from the legendary (Churchill and Queen Elizabeth) and the ordinary (food trucks and foul-mouthed comedians), Matthew offers up new ways of thinking, seeing and doing for accepting and even embracing our growing interdependency.
Following the keynote, please join the Friends for an expanded cocktail reception on Cistern Yard.
The Winthrop Roundtable is reserved exclusively for Friends of the Library at the Contributor-level and above.
To RSVP, kindly contact Halley Cella Erickson, Senior Development Officer at cellah@cofc.edu  or 843.953.6526
About Matthew Barzun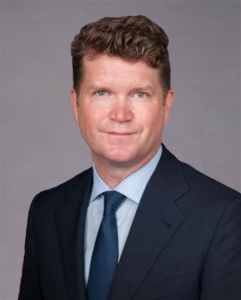 Ambassador Matthew Barzun served as U.S. ambassador to the United Kingdom from August 2013 to January 2017. He served as National Finance Chair for former President Barack Obama's re-election campaign in 2011 and 2012. From August 2009 to May 2011, he served as U.S. ambassador to Sweden. In 2008, he volunteered for then-Senator Barack Obama's presidential election campaign, leading the effort to conduct supporter-driven small-dollar fundraisers. From 2004 to 2008, Mr. Barzun was a private investor in a number of internet start-ups, including co-founding MedTrackAlert. He joined CNET Networks in 1993 as its fourth employee and held various management positions during his 11 years with the company, including Chief Strategy Officer. Ambassador Barzun currently lives in Louisville, Kentucky with his wife Brooke Brown Barzun and 3 wonderful children.
 About the Winthrop Roundtable
The Winthrop Roundtable is the signature event of the College of Charleston Libraries. The event showcases a renowned speaker each year in a presentation related to current events, politics, business, leadership or cultural exchange with the intent of inciting thought-provoking discourse and showcasing unique viewpoints to our community. The first Roundtables, held in John and Libby Winthrop's Charleston home in the early 1990's, were intimate affairs and provided attendees the chance to meet and learn from extraordinary speakers. The Roundtable outgrew Winthrop's home in 1996 as word spread, and the College of Charleston Friends of the Library has since maintained the gathering's original vision of showcasing notable speakers and engaging audiences in invigorating roundtable discussions. Past speakers of the Winthrop Roundtable have included journalists Dan Abrams and Cokie Roberts, diplomats John Kerry and Shashi Tharoor, business leaders Jeffrey Immelt, Martha Ingram, and Darla Moore, as well as military experts Gen. William Westmoreland and Col. William Grimsley.