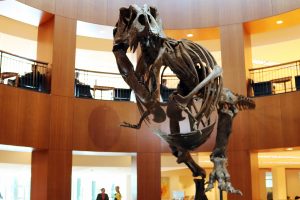 After a year thrilling students and visitors to Addlestone Library, the Rotunda's rex-in-residence Bucky bids adieu.
The 37-foot dino will begin the trek back to his natural habitat at the Children's Museum of Indianapolis this afternoon.
Stop by to snap a farewell selfie!
For those looking to get their fossil fix, take a quick walk across Calhoun St. and check out the Mace Brown Museum of Natural History at the College of Charleston collection of fossils from around the globe. The museum is on the second floor of the School of Sciences and Mathematics.