The College is excited to invite the campus community to an opening reception for a QEP-sponsored art exhibit located in Addlestone Library. This reception will introduce various student, staff, and faculty-created pieces focused on sustainability literacy, while helping to raise awareness about the College's new QEP. This exhibit represents one of the three avenues of advocacy for resilience that the QEP supports: Expression.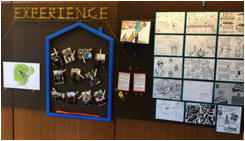 FRIDAY, FEBRUARY 10th
ADDLESTONE LIBRARY
ROOM 360
3:30 p.m. to 5:00 p.m.
This reception is open to all students, staff and faculty. Light snacks and refreshments will be provided. For more information about the QEP, contact QEP Director Todd LeVasseur at levasseurtj@cofc.edu and visit sustain.cofc.edu.
We would like to thank the Provost's Office, Addlestone Library (especially Mary Jo Fairchild and Joey van Arnhem), and Joanna Gilmore and the students of her Fall ANTH 319 course for help with this project.