The College Today News Brief by Amanda Kerr
After a brief hibernation, "Bucky" the T. rex has reemerged in the rotunda of the College's Addlestone Library.
The tyrannosaur began the trek from its post in the lobby of the School of Sciences and Mathematics last month, after spending a year thrilling students and visitors to the Mace Brown Museum of Natural History.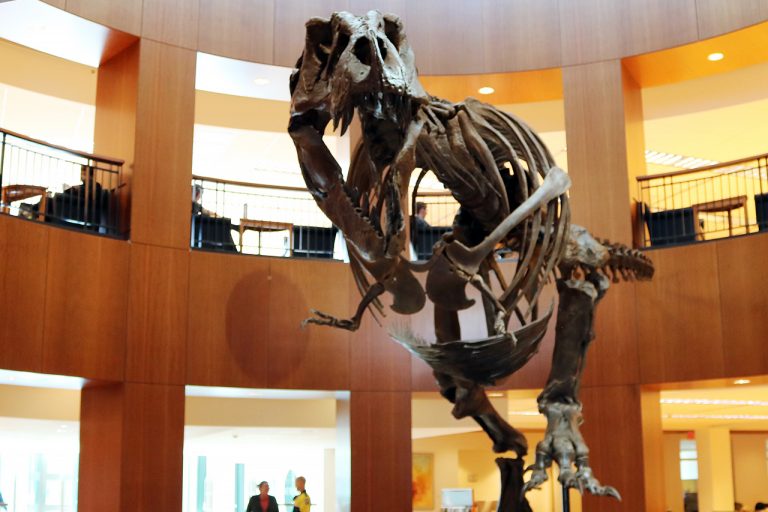 James Williams, associate dean for public services, technology and administration for the College's libraries, says library officials collaborated on Bucky's move with paleontology professor Phil Manning. The library is a place for learning, Williams says, and having artifacts, art and fossils on display is another way to connect students to what they're reading.
And South Carolina has been the site of several significant fossil finds, Williams says, noting that library visitors can learn more about those discoveries in the College's Special Collections.
"From African art to dinosaurs, the library truly has something for everyone," Williams says. "The library has been eagerly anticipating the arrival of Bucky, the T. rex. Learners from 8 to 80 can marvel at this prehistoric artifact, which is sure to excite the kid in all of us."
Indeed, Bucky's installation in the library on Friday was quite the spectacle, as Manning and his wife, adjunct professor Victoria Egerton, worked with a team of geology students and faculty to erect the 37-foot dino.
"Dinosaurs often conjure images of nature red in tooth and claw," says Manning, the director of the Mace Brown Museum. "This Late Cretaceous predatory dinosaur from South Dakota delivers on all counts."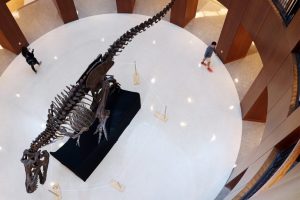 Bucky, named for the rodeo cowboy Bucky Derflinger who discovered the T. rex skeleton in 1998 while training a horse on his ranch in South Dakota, is one of the most complete skeletons of any tyrannosaur ever found.
The cast of the dinosaur is on loan to the College from the Children's Museum of Indianapolis, where Manning and Egerton serve as extraordinary scientists in residence for paleontology.
Bucky's move to the library means patrons can view the massive beast from a variety of vantage points offered by the three floors that surround the rotunda. And newly installed signage will provide insight into Bucky's history. The T. rex will remain on display at the Addlestone Library for up to 12 months.
"Bucky is a fantastic dinosaur that will enable us to learn more about the prehistoric past," says Egerton, who is also a curator at the Mace Brown Museum.
And to keep the thrill ride of fossils going, curious patrons can take a quick walk across the street and check out the Mace Brown Museum's collection of fossils from around the globe, including a world-class exhibit of fossilized whales. The museum is on the second floor of the School of Sciences and Mathematics at 202 Calhoun St. and is open daily from 11 a.m. to 4 p.m. except  Wednesdays.