Committed to Home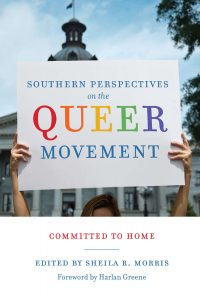 February 7, 6:00 P.M. | Alumni Memorial Hall | FREE
The College of Charleston Friends of the Library and the Alliance for Full Acceptance challenge the conventional narrative of postwar queer activism in the Lowcountry with a free public program on February 7th, 2018 at Alumni Hall.
Sheila Morris will moderate a conversation with fellow authors Harlan Greene, Linda Ketner, Jim and Warren Redman-Gress as part of the release of Southern Perspectives on the Queer Movement: Committed to Home, a new anthology featuring the intimate stories of 21 ordinary citizens in South Carolina who became committed to making their state a better place to live, work and raise their families in the period from the AIDS epidemic in the 1980s to marriage equality in 2014.
The panel discussion will explore Southern variants of the queer liberation movement that have found little room in public or scholarly memory. Confronting an aggressively hostile environment in the South, queer political organization was a late-comer to the region. But it was the very unfriendliness of Southern political soil that allowed a unique and, at times, progressive LGBTQ political community to form in South Carolina.
Harlan Greene will also discuss the beginning of a multiyear project to preserve and make accessible the virtually undocumented – and historically endangered – stories of LGBTQ communities in greater Charleston. Supported by a $200,000 grant from the Gaylord and Dorothy Donnelley Foundation, the College of Charleston Libraries' project marks the first initiative of its kind in the region.
The panel will be held in the College of Charleston's Alumni Memorial Hall, located on the second floor of Randolph Hall. Please use Randolph Hall's main entrance (in Cistern Yard) to access Alumni Memorial Hall. Elevator access is also available. For a detailed map, click here.
FREE and open to the public, but registration is required. 
About the College of Charleston Friends of the Library
The Friends of the Library supports and advances the work of the College of Charleston Libraries. From on-campus collaborations to the Winthrop Roundtable, FOL's programming provides opportunities for lifelong learning that strengthen our community and connects the Library to luminaries across the Lowcountry and beyond. friends.cofc.edu
About the Alliance for Full Acceptance
AFFA is a social justice organization achieving equality and acceptance for gay, lesbian, bisexual and transgender people. We're lesbian, gay, bisexual, transgender persons and straight allies uniting to eliminate prejudice based on sexual orientation and gender identity and expression. affa-sc.org